You are currently browsing the monthly archive for January 2009.
Another post about the BBC! I'm not apologizing, but the reason I like to post on them is that in a number of past projects I've had the pleasure of working with several BBC teams. I always enjoy working with their teams because they are a very smart group and are always trying lots of cool cutting edge things.
This month I have been following the semantic technology work done by the /programmes team, the /music team (see previous post) and the Radio Labs team.
There's nothing extremely groundbreaking with the concepts that they are employing. However, it is the combination of those concepts and their use in the domain space that is most interesting to me.  My team has been pushing for many of these same concepts within our own solution offerings for the Media & Entertainment sector as well.
The core concepts of the Linked Data initiative seem to be fundamental to a lot of the new media work being done by the BBC.  The rules of "linked data" in respect to Media assets and Digital Asset Management make a lot of sense.  It not only makes it easier to discover metadata about media, it also makes it easier to aggregate metadata from multiple sources, and easily discover such things as rights, copyright, and usage information. 
The four rules of Linked data are the following:
Use URIS as names for things. 
Use HTTP URIs so that people can look up those names.
When someone looks up a resource through its URI, provide them some useful information.
Include links to other URIs, so that they can discover more things.
Seems very simple, and in fact using these rules in designing a next generation Digital Asset Management solution is not very difficult (although there are some design issues that you should be aware of). 
Exposing the assets or "entities" via a well known URI is fundamental to the ability to link stuff together that was not originally designed or intended to be linked. Following these simple principles allows for easy "mesh-ups" for consumer and B2B oriented media metadata exchange.  By building asset management systems in such a fashion, it becomes much simpler to build out program guides, EPGs, content aggregation portals like Hulu, Joost, and the BBC iPlayer.
Another aspect of the BBC's work that I am interested in is their use of OWL ontologies to define their domain model.  The Programmes ontology defines the vocabulary for how to describe a brand, series or episode on the BBC's web properties.  Their ontology follows similar ones in the Semantic Web in that it reuses or imports vocabulary from existing well known ontologies such as Dublin Core and Friend of a Friend (Foaf).  This is the approach that I took with the development of the IMM Core ontology in the Interactive Media Manager (IMM) solution for Digital Asset Management.  Our domain model was based on the abstract model for MPEG-21 Digital Item Declaration language which I will cover in a future posting. 
In the case of IMM, a lot of our URI designs followed rule #1, however we failed to provide the ability to effectively implement rules 2 and 3. Our URIs all begin with http://, but due to the nature of SharePoint being the underlying platform, we did not provide a simple way to make our resource URIs land on a page that showed meaningful data or links to related URIs.  This is something that should be simple to address in a future release. 
I really appreciate the way the BBC service is offering persistent URIs with the ability to adjust the serialization by adding a simple extension such as .xml, .yaml, .rdf, or .json to the end of the URI.  The BBC team's underlying development should serve as a best practice for the media industry and will lead to the growth of the Semantic Web through linked data. I'd love to see all M&E companies begin to embrace these patterns.
A recent article in InfoWorld attempted to tie the current economic downturn directly to the future success of Silverlight 2.0 adoption.  My opinion is that this argument is pretty flawed.  
For starters, since the October 2008 launch of Silverlight 2.0 it has been installed on over 300 million consumer PCs (or one in four), mostly the result of major events such as the Beijing Olympics (upgrades from 1.0), the new Netflix Watch Instantly services, The Democratic National Convention, and the Presidential Inauguration on CBS.  Montalbano's argument that the adoption rate for Silverlight will be impacted by the cutback in corporate IT budgets makes little sense to me since most enterprise applications would not be the major driving factor for adoption. 
Flash did not earn its near 100% adoption of its previous player, or its now 45% adoption of player 10 through corporate IT department projects.  It earned it through browser bundling, advertising, YouTube, and online media focused on the consumer.  Silverlight will continue to gain adoption just fine during this economic downturn, as people will want more entertainment at home and via the web. 
In addition, my experience shows that as things quiet down in IT departments due to budget cuts, developers will begin to re-train and try out new technologies.  This downturn might give some more Microsoft camp developers the time they need to train-up on Silverlight and try out some new ideas so they are ready for the next wave of projects.
I've been working with RDF Gateway from Intellidimension in our solution development for the last couple of years and today they dropped what I believe is a significant enhancement in performance to their already fantastic Semantics.Server solution for storing and retrieving RDF triples in SQL Server 2008.  Also new in this release is an update to the SDK that provides an Entity framework on top of the existing SDK.  The new Entity framework simplifies the way you work with business entities in your semantic applications. I'll try to put a longer post together later that show how these technologies are used.
This is one of those truly amazing and cool products. A friend of mine has been working with the Wafian product team on some live event playback solutions, but I think this product is also equally cool. I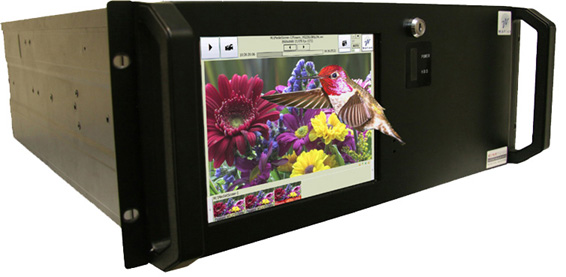 t is a 10 bit 4:4:4 High Definition Digital Disk Recorder that has 2 HD-SDI inputs and captures to a CineForm compressed Quicktime MOV file that actually contains the two independent streams of video. It can store 3D 1920X1080 24P at a mere 140 GB/hour. Amazing!  Looking forward to seeing a lot more 3D productions in the future with my kids.
Last week Microsoft teamed up with the Presidential Inauguration Committee and CBS to stream the event live using Silverlight. The Channel9 team recently posted a nice video with Steven Woodard and Ben Waggoner discussing how it was done, and the historic last minute use of Moonlight (Silverlight for Linux) to provide an alternate experience for Linux users. Move Networks provided the video streams.  You can check out the quality of this stream on Demand at CBS. Be sure to click the Watch HD link and install the Move Player.
A colleague of mine Twittered this wonderful overview article on the Semantic Web and the current initiatives that are under way. This article provides a nice overview of the past and present technologies that make up the Semantic web.
The BBC announced yesterday that they are now testing a new Music knowledge base service that aggregates content from the open source DBPedia and other sources. 
This is very exciting from my perspective, since my team has been working with Semantic Web technologies (RDF, OWL, SPARQL) for the last couple years to solve problems in the Digital Asset Management space.
I strongly believe that the use of open standards and ontologies is the correct approach to the ability to share and interop with metadata on the web and will lead to more connected media and consumer experiences in the future.